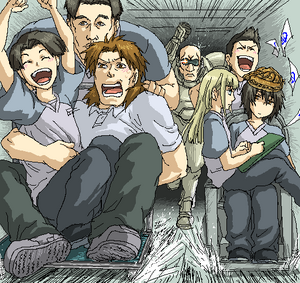 Hi, I'm [Meri, Rose, Ropse, "Crowpse"]. I thought I'd give a little hand with the GITS wikia, since I noticed there are a few articles that need some help. I am an admin on the Higurashi wikia, and my specialities are analysis and factual checking. Ghost in the Shell is my favorite series overall, and 2nd GIG is my favorite installment. On tumblr I like to think of omake situations with Section 9, .. and uh, I have a big fat girl crush on Saito ("WHAT A LEWD SNIPER"). If you have a tumblr as well, please send me a message; I love meeting more GITS fans. I look forward to working with all of you on this wikia.

This is not a Ghost in the Shell Wiki article.
If you find this page on any site other than the Ghost in the Shell Wiki, you are viewing a mirror site. Be aware that the page may be outdated and that the user to whom this page belongs may have no personal affiliation with any site other than the Ghost in the Shell Wiki itself. The original page is located at

This is an user page for a registered user on the Ghost in the Shell Wiki.
This message has been placed here to remove this page from the Wanted Pages, in addition to serving as a navigational aid. Users are welcome to remove this message on the condition that they add meaningful content to their user page.