Ghost in the Shell 2.0 (film)
Talk

0
420pages on
this wiki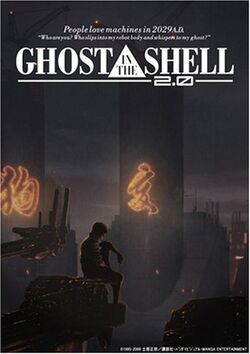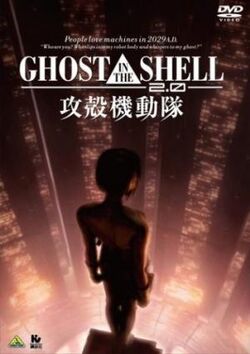 Ghost in the Shell 2.0 (GHOST IN THE SHELL/攻殻機動隊 2.0, Gōsuto In Za Sheru/Kōkaku Kidōtai 2.0?) is a reproduced version of its original 1995 counterpart. It was produced in celebration for the release of The Sky Crawlers in 2008. For the films Version 2.0 release, all the original animations were re-produced with latest digital film and animation technologies, such as 3D-CGI. The original soundtrack was also re-organized and re-recorded.
Japanese music composer Kenji Kawai, who orchestrated the score for the original 1995 production, remixed the Version 2.0 soundtrack in 6.1 Channel Surround. Academy Award Winner Randy Thom of Skywalker Sound reprised his role as Sound Designer, after previously working on Ghost in the Shell 2: Innocence, and whose credits also include work on Final Fantasy: The Spirits Within.
To complement the new soundtrack, Japanese voice dialogue was also re-recorded, with some variation from the original script to make use of more recent colloquial phrases in modern speech. Notably, the original male voice actor for the character of the "Puppet Master", Iemasa Kayumi, has been replaced by voice actress Yoshiko Sakakibara (Ghost in the Shell 2: Innocence's Harraway, Ghost in the Shell: Stand Alone Complex's Prime Minister Yoko Kayabuki).
The North American release for the film was scheduled to be distributed by Warner Bros. Home Entertainment on the DVD and Blu-ray format. The Special Edition release was scheduled to include the original 1995 release alongside the Version 2.0 on a Double Layer Blu-ray, and complimented with the inclusion of a soundtrack CD and booklet with commentary detailing the Version 2.0 production. This has since changed and Manga Entertainment will actually be releasing the film on Blu-ray. Early copies leaked to Best Buy shelves before the November 24th, 2009 street date. The original version of the movie is included on the disc in HD. The original English dub was used for the new 2.0 version with the new sound effects.