Ghost in the Shell 1.5: Human-Error Processor

Ghost in the Shell 1.5: Human-Error Processor攻殻機動隊Kōkaku Kidōtai 1.5: Human-Error Processor

Genre
Cyberpunk

Manga

Authored by
Published by

Serialized in

Young Magazine

Original Run

1991 – 1996

Volumes

1

Chapters

4

Release Dates

Japanese

2003

English

October 18, 2006

Series

Prequel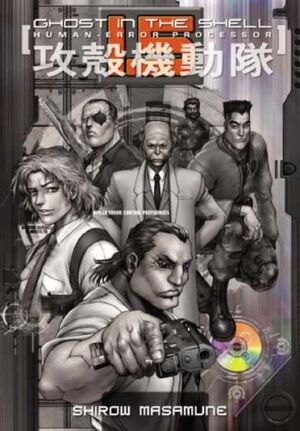 Ghost in the Shell 1.5: Human-Error Processor (攻殻機動隊/Kōkaku Kidōtai 1.5: Human-Error Processor) is a set of four chapters that were left out of the Ghost in the Shell 2: Man/Machine Interface tankōbon by Masamune Shirow himself. The four chapters are: "Fat Cat", "Drive Slave", "Mines of Mind" and "Lost Past". As with each of the earlier Ghost in the Shell serializations, this was also serialized in Kodansha's Young Magazine.
The story continues following Section 9 and their covert ops investigations.
1991: A young woman calls Section 9 to investigate her father's recent strange actions, and he turns out to be operated (through his electronic brain) by remote control.
1992: Chroma (a.k.a. the Major) returns when her bounty hunt collides with Section 9's witness protection case.
1995: A cyber-date gets interrupted by an arms dealer's murder, which leads to a cyborg shoot-out at the marina and the reappearance of an agent's old friend.
1996: The investigation into a kidnapping gone wrong leads to a covert operation by another government department into Okinawa terrorism.
Japanese Editions
Edit
The first collected Japanese edition was published in 2003 and is 184 page long. It contains a Booklet, a CD-ROM that features the full stories, and adds music to the manga scenes. It also has a screen saver.
English Editions
Edit
Announced at the 2005 San Diego Comicon, the series will be released as 8 individual comic-sized issues before being collected in trade paperback format. This will be the first of the Ghost in the Shell manga released in the U.S. to read right-to-left. The first issue came out 2006-10-18 [1].
The trade paperback was released on 2007-10-10.
Cover Gallery
Edit
External links
Edit
Ad blocker interference detected!
Wikia is a free-to-use site that makes money from advertising. We have a modified experience for viewers using ad blockers

Wikia is not accessible if you've made further modifications. Remove the custom ad blocker rule(s) and the page will load as expected.