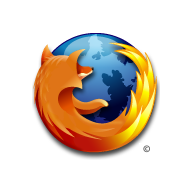 No higher resolution available.
This logo is a "registered", if applicable trademark of the Mozilla Foundation.
Licensing
Edit
Terms of use are defined on the Mozilla Trademark Policy page. Important sections and notes on how they are followed are listed here in italics.
Overall Guidelines for Printed Materials and Web Sites
Edit
Mozilla encourages the use of its trademarks in marketing, fundraising and other publicity-related materials. That includes advertising stating that a person or organization is shipping or selling Mozilla products. Of course, any use of a Mozilla trademark is subject to the overarching requirement that its use be non-confusing. Thus, you can't say you're raising money for Mozilla when you're actually raising it for a Localization Project, say that you're selling or reviewing the Mozilla Firefox Internet browser when you're actually reviewing a Community Edition of the Firefox browser, or use the Mozilla logos on the cover of your book or on your product packaging.
Although many uses of Mozilla's trademarks are governed by more specific rules, which appear below, the following basic guidelines apply to almost any use of Mozilla's trademarks in printed materials, including marketing, fundraising and other publicity-related materials, and websites:
Proper Form - Mozilla's trademarks should be used in their exact form -- neither abbreviated nor combined with any other word or words (e.g., "Thunderbird" rather than "T-Bird" or "Thunderbinary");

The userbox which uses this uses the full name Mozilla Firefox when using the image.

Accompanying Symbol - The first or most prominent mention of a Mozilla trademark should be accompanied by a symbol indicating whether the mark is a registered trademark ("®") or an unregistered trademark ("™"). The Mozilla trademarks include, among others, the names Mozilla®, mozilla.org®, Firefox®, Thunderbird™, Bugzilla™, Camino®, Sunbird™ and Seamonkey™, as well as the Mozilla logo, Firefox logo, Thunderbird logo and the red lizard logo. As Mozilla registers others, it will update this policy;

The uploaded Firefox image contains the ® mark built into the image and is not altered out.

Notice - The following notice should appear somewhere nearby (at least on the same page) the first use of a Mozilla trademark: "[TRADEMARK] is a ["registered", if applicable] trademark of the Mozilla Foundation";

The userbox makes a reference to Mozilla Firefox being a trademark of the Mozilla Foundation.

Distinguishable - In at least the first reference, the Trademark should be set apart from surrounding text, either by capitalizing it or by italicizing, bolding or underlining it.

The note made is in italic and grey, while the text is a little bit smaller, the style of text makes it look much like a normal footer copyright notice which adequately fits what the text is about.
Logos and Merchandise
Edit
When it comes to Mozilla's trademarked logos ("logos," for short), there are some cool things you can do and some cool things you can't do - at least not without asking Mozilla.
You may make t-shirts, desktop wallpaper, or baseball caps with Mozilla logos on them, though only for yourself and your friends (meaning people from whom you don't receive anything of value in return). You can't put the Mozilla logo on anything that you produce commercially -- at least not without receiving Mozilla's permission. Of course, Mozilla owns and operates the Mozilla Store, which sells a wide range of CDs, Guidebooks, T-shirts, and products with Mozilla software and logos. That's how we make some of the money that keeps us around.
There are two additional broad categories of things you can't do with Mozilla's logos. The first is to produce modified versions of them. A modified logo also would raise the possibility of consumer confusion, thus violating Mozilla's trademarks rights, too (remember the overarching requirement that any use of a Mozilla trademark be non-confusing?). The second concerns high-resolution copies of Mozilla logos, which you cannot have or use. If you've a very good reason to seek an exception to the rule against having and using high-resolution copies of Mozilla logos please contact the Mozilla Corporation for Firefox and Thunderbird, or the Mozilla Foundation for other logos.
The 128px version is used; Low-res; Images are used unaltered.
File history
Click on a date/time to view the file as it appeared at that time.
Ad blocker interference detected!
Wikia is a free-to-use site that makes money from advertising. We have a modified experience for viewers using ad blockers

Wikia is not accessible if you've made further modifications. Remove the custom ad blocker rule(s) and the page will load as expected.